コラム
How to hire first employee in Japan
How to hire an employee in Japan? Many from the industry would agree that it is not an easy task. In this article, I will be taking you through the recruitment process for consultants trying to hire in Japan for the first time or those who have just started your recruitment career.
It is very tough to hire experienced talent in Japan. Here are the three factors to understand why Japan is a unique market and how to deal with the challenges.
1. How different is Japan from other countries
2. Market research and setting persona
3. Hiring channel options; Direct sourcing and appointing recruitment agency
1)How different is Japan from other countries
Adoption of a foreign language was minimal
Japan has always been functioning with a steady economic growth without the need of adopting a foreign language. Hence, the Japanese tend to take up a foreign language only when faced with a problematic communication crisis. Due to the increasing nature of such circumstances, the Japan government has now officially announced English to include as part of the educational curriculum from elementary school. This initiative is expected to groom Japan to have a competitive edge over the global market compared to non-english speaking countries.
MANY jobs, NO candidate
This is one of the key difference in Japan from other markets – the total number of available jobs exceeds the number of job seekers in the country. A recent report by the Ministry of Health, Labour, and Welfare stated that the ratio of job openings to job applicants in December 2020 is 1.57 point across Japan, and 2.08 points for Tokyo. The scores indicate the rate of attaining a job by a job seeker whereby Tokyo leads the highest in offering a job compared to other cities. To keep updated on the latest job opportunity rate, it is recommended to keep a watch on both MInistry of Health, Labour, and Welfare report, and the Global Talent 2021 from Oxford economics (pg 10). According to the last report, Japan is ranked second due to a large gap between job seekers and the available number of jobs.
Lifetime Employment System and Mindset, Harmony is the greatest of virtues
There is a misconception that the Japanese prefer to serve one company throughout their career journey. This is due to two main reasons. Firstly, it is the Japanese Lifetime Employment System where the fresh graduates are recruited and nurtured till retirement. But this practice has been chipping away over the last 20 years as companies observe a decline in the rate of growth due to cultivating a stagnant environment
Next, the Japanese follow strong values outlined by the Prince Shotoku in the Seventeeth-article constitution in 604 – Harmony is the highest virtue in leading a cohesive life. This cultural believe continues at work where people perform based on the strength of their relationship with the company.
2)Market research and setting Persona
I like to go through a more action-based approach for hiring.
Setting goals and market research
In a hiring process, it is essential to the market research and understands the challenges before setting goals to match the right candidate to the right job. Vital questions such as, what is the economic development rate in the market and what type of talent are required by the organization needs to be addressed before sourcing for the right talent. It is also advisable to study the from previous hiring experience case study to ensure the right talent matches the job. With market research playing high importance in providing the right data, it is highly advised for companies to engage and invest in obtaining such data for efficient and effective planning. If your company does not have enough resources to go to local market research, there is much bilingual research company or consulting company for your support.
Setting Hiring target
If you are going to set a hiring target, there are a few checkpoints that need to be cross-checked before finalizing the goal. For this article, I have outlined three checkpoints:
❏ Culture and environment fit
Write down your organization culture. For example, in a start-up environment, there may not be a basic workflow SOP, and hence, you will not be able to hire a talent who is accustomed towards a standard operation work and expects the same at a start-up scene. Instead, this environment requires a practical and proactive person to help your organization grow commercially.
❏ Skill and result expectation fit
What kind of result do you expect for this hiring? Refrain using generic terms and provide more in-depth information and requirement to ensure the job seekers also knows the organization's expectation that could avoid unnecessary miscommunication between the job seeker and the job posting.
❏ Salary and benefit fit
You need to create a balance between business profit structure and market price to set the Salary and benefits range. There is a very complicated national pension and social security insurance in Japan. Please get professional advice to understand your budget for hiring. If your hiring target is competitive in the market, the salary and benefits package, including the work-related flexibilities will undermine the target's decision for a job switch.
3) Hiring channel options; Direct sourcing and using 3rd party sources
I'd like to take you through the different candidate sourcing options focusing on private service that is not related to free government Public Employment Security Office.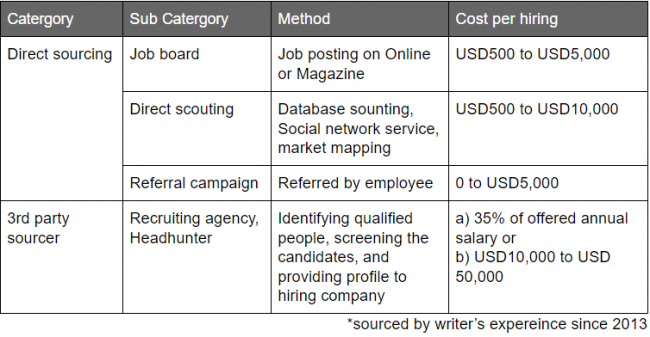 Direct sourcing must be done by internal HR or Hiring Project Manager like a Talent Acquisition team. They are responsible for generating qualified pool of candidates, and project manages the hiring process until closing.
On the other hand, vendors such as a recruitment agency of a freelance headhunter aids company through the hiring process in generating the pool of qualified candidate for the initial interview stage. Owing to the high cost by an external vendor, most of the companies in Japan do not opt to engage them for recruitment. This trend is increasingly seen over the last seven years in Japan. Before you eliminate this option, here are my advice to take into consideration of why engaging a recruitment consultancy might not be a bad idea.
①About 15% of succeeded job seeker uses 3rd party candidate source
A recent survey by doda by persol answered by 6,578 job seekers who succeeded in their job search showed that approximately 15% of job seekers who managed to secure a placement found their job via a recruitment agency. Job search via a recruitment agency was also at the second-ranking on how what is their most preferred method of job search. So there is a high possibility that your target candidate is amongst this group of the job-seeking platform.
② Specialized recruiting team
Most of the external recruiters are specialized in terms of the industry, job function, job category that are looking for a hiring target. They not only meet with an active candidate but also with a passive candidate to understand the market better. This is the reason why we can expect short period placement from a specialized recruiting agency. Of course, some of the mass recruiting agencies look for their candidate only when there is a request from the client, and I would recommend not to place high expectations on this kind of agencies.
③ This is an option of all
Using 3rd party is just an option of all for strategic hiring. What is good hiring? Quality? Time to fill? Cost per hiring? We need to work with the external vendors if you want to obtain the best hire. Reducing active investment on this option may not lead you to the best candidate.
In last, as you can see, now hiring in Japan is not easy. I wish you have enjoyed this article and helped your understanding of the background of the difficulties. Do not worry. You know much more than before you read. Good luck!
Message me for any questions or ideas for hiring in Japan.